Anaesthesiology
---
---
The Department of Anaesthesia takes intense efforts to provide optimum clinical care to both adult and children in the perioperative period. The services of Anesthetists are available round the clock for all planned and emergency surgeries and procedures.The operation theatres are equipped with modern Anaesthesia machines, Anaesthesia equipments, multipara monitors, Fiber-optic endoscopes, Nerve locators for safe administration of general and regional anesthesia.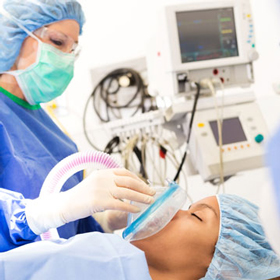 A variety of urological surgeries, gasrtoenterological surgeries incluging procedures like ercp, endocscopy, broncoscopy, ophthalmological surgeries like cataract surgery, ent surgeries, reconstructive and plastic surgery, burn patient management, brain and spine surgeries which are done by an expert team of super specialist doctors with a very high success rate.
A Dedicated team of cardiac surgeons, cardiac anaesthesiologists and cardiologists are available round the clock for cardiac surgeries like valve replacements, cabg, and ptca (stenting) along with state of the art cardiac OT and cardiac cath lab. A dedicated post operative ctvs itu is also available.
Services Offered
All modern and safer drugs required for delivery of Anaesthesia are available for patients care. The monitors include electrocardiograph, pulse oximeters, capnography, respiratory gas monitors.
In addition, there are facilities available for invasive monitoring like arterial blood pressure and cardiac output which are helpful in handling critically ill patients and those coming for complicated major surgical procedures. All operation rooms are equipped with Infusion pumps which help deliver the exact rate and amount of drugs to patients during the surgical procedure. We use both general and regional anaesthetic techniques or in combination.
CardiacCatheterization Lab
Endoscopy
Digital subtraction angiography (DSA) Lab
IVF
CT Scan
MRI
Focused MRI (MRgFUS)
Radiotherapy and Radiation
Nuclear Medicine
We also have an anesthesiology OPD, wherein surgical patients are pre-operatively evaluated by consultant anesthesiologists and patients are counselled about the plan of anesthesia and other concerns.
---