Physiotherapy
---
---
Our physiotherapy and Rehabilitation Centre offers healing and physiotherapy services to both – the In-patients as well as out-patients, right from early diagnosis to recovery and beyond. None of these involves miracle cures. Whether helping a child catch up with developmental milestones, or putting stroke patients back on their feet or using simple tips to improve the quality of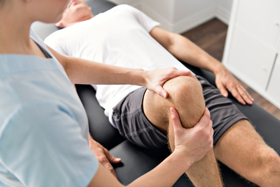 life of senior citizens - Our Physiotherapy Department at Savera is committed to help patients to recover and Rehabilitate them as soon as possible.
Our Rehabilitation Team has immense asset in terms of Clinical Experience in handling each case with utmost care .Our physical Therapy team is equipped to treat different super specialized fields like, Musculo skeletal, Cardio Respiratory Neuro surgery, Neurological, Paediatrics – where physiotherapy is primary and essential part of treatment. This also includes pre and post operative patients of trauma and children with developmental disorders. Physical Rehabilitation is an essential part of recovery for patients treated for diseases that affect mobility and those who are Bed Ridden for longer period of time.
Services Offered
The department of physiotherapy offers a convenient environment for physical therapy treatment and Rehabilitation. Below mentioned is broad classification of our services : –
Orthopedic/Musculo Skeletal Rehabilitation
Joint Replacement & sports Injury
Trauma
Degenerative conditions like RA, OA, Spondylosis
Amputations, Arthritis
Neuro Surgery/Neurological Rehabilitation
Craniotomy, Spinal Fracture, Disc Problems
Stroke, Parkinson s Disease
Nerve Palsies, Multiple Sclerosis
Cardio Respiratory Rehabilitation
COPD, pneumonia and other respiratory disorders
CABG, Valve replacement
Gynaecological Rehabilitation
Our department conducts special classes for pregnant ladies. Antenatal and postnatal exercises for expectant females by trained physiotherapists.
---