Nephrology
---
---
Savera has a well-equipped Nephrology Department that takes care of all kidney problems, both by conservative approach as well as by cutting edge surgery. The specialist consultants are supported by well-trained nursing staff, who are experts in handling patients with kidney diseases;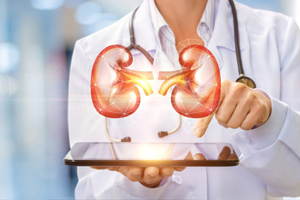 The Department is complete with independent Dialysis Units. This Dialysis equipment are operational day and night and are a very useful adjunct to the Intensive Care Units where critically ill patients, having multiple organ damage, often require immediate Dialysis.
Kidney Transplant & Dialysis Center
The department of Nephrology at Savera provides comprehensive and high quality services. It has state of art Advanced Kidney Dialysis (AKD) unit. The department focuses to provide highest quality medical care with a human touch. The department is one of the first few centers in India to provide state of Art Renal Replacement Therapy.
We provide state of Art R.O.(Reverse Osmosis) water for the dialysis, to ensure patient safety and prevent long term complications on haemodialysis. Facility for continuous monitoring of sick patient on dialysis through highly sophisticated monitors throughout the dialysis procedure is available. Each haemodialysis session is for four hours duration. We make sure that adequate dialysis is given to the patients without compromising on duration of dialysis sessions. As, some of the hospitals are giving, only three hours of dialysis in each sessions, in which patients have to take more than twice or thrice weekly dialysis in order to get adequate dialysis.
PRINCIPAL PROCEDURES
Cystectomy
Turp(Prostate)
Ureter Transplantation
Nephrectomy (Kidney Removal)
Pyelolithotomy
PCNL
Services Offered
Our goal is to deliver the highest level patient care, consistent with our philosophy of keeping the patient at the highest priority. The scope of services the department offers includes
Clinical Nephrology – Regular Consultation
Critical Care Nephrology
Dialysis – Peritoneal Dialysis (Acute PD, CAPD, APD)
Haemodialysis – Maintenance HD and Hemodialfiltration
Emergency HD
SLED
CRRT – (CVVHD) for critical Patients
Savera Offers full spectrum of renal solutions
Savera hospital offers cutting edge care in all areas of nephrology with round the clock delivery of care for dialysis, transplant and chronic kidney problems.
Nephrology
Chronic Kidney Disease clinic
Kidney- Hypertension clinic
Transplant clinic – Pre transplant & post transplant
Comprehensive diabetic clinic
Patient education programmes & preventive nephrology
---