General Surgery
---
---
The department is led by highly qualified and competent- surgeons with a vast experience. The department of surgery provides evaluation and treatment for a full range of general surgery problems. The breadth of surgical services includes breast, endocrine, minimally invasive procedures, V.A.T.S., hepatobilliary, colorectal, gastic and trauma.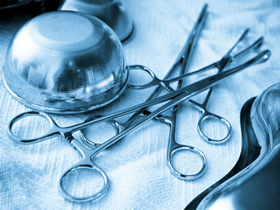 Moreover the staff works closely with other medical specialities to provide optimal patient care. Savera Hospital team of professionals includes surgeons, anesthesiologists, physicians, psychologists. The department consists of six senior consultants who have trained and worked at leading medical institutions in India and abroad.
Minimally Invasive Surgery
Hepato- billary surgery
Breast Surgery
Endocrine Surgery
Dressing Room
Operation Theatre Complex
Equipment and Instruments
Infection control
Services Offered
The department provides specialist care in the following super specialties:
Advanced laparoscopic and minimally invasive surgery
Benign and malignant diseases of Esophagus stomach and interlines
Modern management of Anorectal diseases like piles, fissures and fistulas
Benign and Malignant diseases of Breast, Thyroid and Salivary Glands
Thorack and Thoracoscoplc surgery
Multidisciplinary management of patients with Septicemias and MSOF
Surgical nutrition and hyper alimentation for hospitalized patients
The benefits of minimally invasive surgery can include:
Small incision,
Less pain
Low risk of infection
Short hospital stay, quick recovery time
Less scarring
Reduced blood loss
The General Surgery team has state of the art operation theatres at its disposal to perform major and minor procedures. After a surgical procedure the patients receives facilities that meet all quality criteria. These facilities include a 23 bed Recovery Unit, 13 bed Surgical ICU with biomedical equipment and rooms that meet the requirements of patients of all social strata.
---