Histopathology
---
---
The histopathology department of Savera Hospital examines and submits diagnostic histopathology reports on surgical specimens of human tissues referred to it from the clinical departments of Savera Hospital The reports normally contain a brief description of the gross and microscopic features observed in the specimen, and a diagnosis based on the pathologic alterations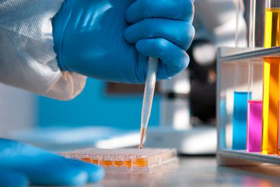 expressed in the tissues, providing a means towards identifying the nature of the disease process afflicting the concerned patient and serving to guide its clinical management, as well as in prognostication of the disease.
Our pathologists have dedicated training, interests and vast experience in Neuropathology, hepatobiliary and Gastrointestinal tract and Oncopathology.
Services Offered
Surgical pathology:
Grossing and reporting small diagnostic biopsies to large complex radical oncology specimens. The hospital has started a new liver transplant program and the department has trained pathologists to handle donor biopsies, explant specimens & post transplant liver biopsies.
Neuropathology being a super- specialized subspeciality of histopathology needs high degree of proficiency, not only for diagnosis, but also for prognostication as many of these patient's need adjuvant therapy post surgery.
Diagnostic biopsies and resection specimens from other sites like skin, head and neck, lymph nodes, mediastinum, lung, omentum, breast, male and female genitourinary tract, bone and soft tissue constitute rest of the work load.
Frozen section:
Intraoperative frozen section reporting is a routinely performed test for oncology cases.
Histo chemical stains & Immunohistochemistry:
The lab currently has 60 IHC markers and is in the process of expanding the panel to keep abreast with the evolving field of oncology & precision medicine. We have panel of the required histo chemical stains which aids in routine diagnosis.
Cytopathology:
Fine needle aspiration cytology:
Routinely done for palpable lesions with facility of Ultrasound/CT
---